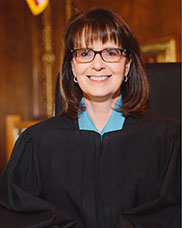 Judith French
Insurance
Director
614-644-2658
Biographical Information
Education: Three degrees from OSU: a B.A. in political science, an M.A. in history (with a concentration in military history and strategic studies), and a J.D., with honors
Employment/Military Record: Appointed to Supreme Court in 2012; elected in 2014; Deputy Director of Legal Affairs, Ohio EPA; assistant attorney general and chief counsel, Ohio Attorney General's Office; Chief Legal Counsel to former Gov. Bob Taft.

Governmental Leadership (Elected or Appointed)
Insurance (1/19/2021 - )

Elections and Political Participation
Supreme Court Justice, race 2 2020
General Vote:
2,125,224 of 4,749,448 (44%)
Primary Vote:
592,822 of 592,822 (100%)
Copyright 2023, Gongwer News Service, Inc. All rights reserved.