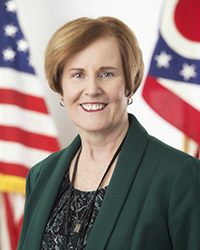 Maureen Corcoran
Medicaid
Director
50 W. Town St., Suite 400
Columbus, OH 43215
800-324-8680
Biographical Information
Education: Master's Degree in Nursing and a Masters of Business Administration in Finance, both from Case Western Reserve University.
Employment/Military Record: President and founder of Vorys Health Care Advisors, Assistant Deputy and Acting Deputy for Medicaid at the Ohio Department of Jobs and Family Services. She also served as a Human Services Policy Advisor to Ohio Governor Richard Celeste and as the Chief of the Office of Healthcare Cost Containment policy for the Ohio Department of Health.

Copyright 2023, Gongwer News Service, Inc. All rights reserved.