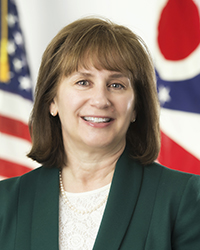 Sheryl Creed Maxfield
Commerce
Director
77 S. High St., 23rd Fl.
Columbus, OH 43215
614-466-3636
Biographical Information
Education: degree in journalism from Bowling Green State University and her law degree from the University of Toledo College of Law
Employment/Military Record: Worked for the Ohio Attorney General's Office from 1984-2019 and during her time with the office has been the Assistant Chief of the Court of Claims section, the Chief of the Executive Agencies section and Chief of the Health and Human Services section. She previously served as First Assistant Attorney General.

Copyright 2023, Gongwer News Service, Inc. All rights reserved.