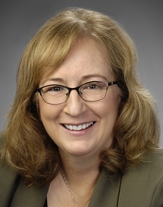 Laura Lanese
Biographical Information
Marital Status: Married
Spouse: Mike Lanese
Children: 3
Education: Masters of Law degree from Georgetown University, Juris Doctor from The Ohio State University, Bachelor of Arts from Miami University
Employment/Military Record: writer and historian
Community Activities: Served on the Park Board, MORPC, Rotary and as the council liaison to the Grove City Chamber of Commerce.

Governmental Leadership (Elected or Appointed)
House Assistant Majority Whip (1/1/2019 - 12/31/2020)
House (1/1/2017 - 11/27/2022)
Other Offices: Former at-large council representative for Grove City, former attorney for the U.S. Department of Justice and United States District Court in the Southern District of Ohio. Military Service: veteran of both the Ohio Air National Guard and the US Army Reserve

Elections and Political Participation
Ohio House10th District 2022
Withdrew
Ohio House23rd District 2020
General Vote:
33,187 of 59,736 (55%)
Primary Vote:
4,023 of 4,023 (100%)
Ohio House23rd District 2018
General Vote:
24,641 of 44,307 (55%)
Primary Vote:
4,998 of 4,998 (100%)
Ohio House23rd District 2016
General Vote:
29,373 of 50,833 (57%)
Primary Vote:
11,352 of 11,352 (100%)
Copyright 2023, Gongwer News Service, Inc. All rights reserved.